Personal info:
I have been told that you are currently in need of Hunter for your PVE Progress in ICC. I have a close friend at school and i have been wanting to be in the same guild, and same realm as him. I am a normal 15 Year old Male from the UK. I currently still at school not doing my GCSE'S till next year so my raiding time is fully open I have also got 6 weeks off/summer break in one week time and i will be fairly active in that hoilday.
Name: Brett Saltalamacchia
Age:
Location: England UK
Character info:
I am currently rolling a MM Hunter, i have had this character for 4 years I had deleted it half a year ago due to my social life, but i had now restored it

I know everything about my class, i know the advantages and disadvantages of my class. I know how to play my class. I master my class

Please do not judge me by my age, and i am fairly mature.
My gear is fairly good, i currently have 6k GS but GS is not the important part of the game it is the skill and understanding of the game, which i know pretty well. I am currently stacking Armor pen and i am hard capped, i currently have 93% armor pen. Please feel free to check my armory and everything else you want to know, im here to help.
Name: Precisé
Class and spec: Hunter/MM
Professions: Engi/JC
Your armory link:
http://eu.wowarmory.com/character-sheet.xml?r=Ravencrest&cn=Precis%C3%A9
Previous guilds and reasons for leaving them:
I have been in several other Raiding guilds before which have fell apart

I had left these due to the slackness of the other guild members for example, not turning up on time, not turning up to raids etc etc. I have also left other guilds due to the leadership of the guild being extremely poor and not a very well orgainsed controlled guild.
Why do you choose Imperium, and what do you expect?
I have chosen to apply to join Imperium because i have heard alot of great and proffessional comments and lot of good feedback. My other reason for wanting to join this guild is because i want to meet new people, and make new friends, and also be in the same guild as my Real-life friend.
Previous raiding experience (also pre wotlk and pre tbc).
I have raided alot throughout my play time of WOW, i have raided Black temple on my other Hunter which had been banned

and created another. My experience is ICC is pretty good, i read up on bosses and i also watch videos of upcoming raids which i am planning. I have experience in 10man ICC and 25man ICC. 10man i have progressed to 10/12, i have even hosted my own ICC10 and had tried sindragosa to 25% . My exp in 25man isn't that very good but i know all tacs and i am a fast learner. I have only progressed to 6/12 in 25man. I don't only do 25man raids like other people, i also take 10man very seriously and i would rather down the Lichking in 10man before i progress into 25man Lich King.
Do you enjoy your class and will you play it for a long long time?
Yes, i enjoy my class very much and i have played this class for 4 Years

so i know everything about my class which i should know, i know the advantages which i have and the disadvantages i have.
How often do you play?
I play quite alot actualy

I play atleast 4 Days a week, 3-7hours a day depends on if i am planning to raid or not. Their may be an occasion when i cannot be online or i cannot attend a raid on a Friday or a Saturday due to my social life. If there is a problem i will notify a Officer and give him a suitable reason of why i cannot attend.
Will you attend at least 3 raids regularly every week?
Yes i will attend 3 of your raid every week, if not i will give a suitable reason to one of the Officers.
Please provide us with a screenshot of your UI, and WWS report of any recent raids you have participated in
My UI is the default UI, i prefer this UI compared to others out there. I have setup my bindings and my UI/keys to my liking.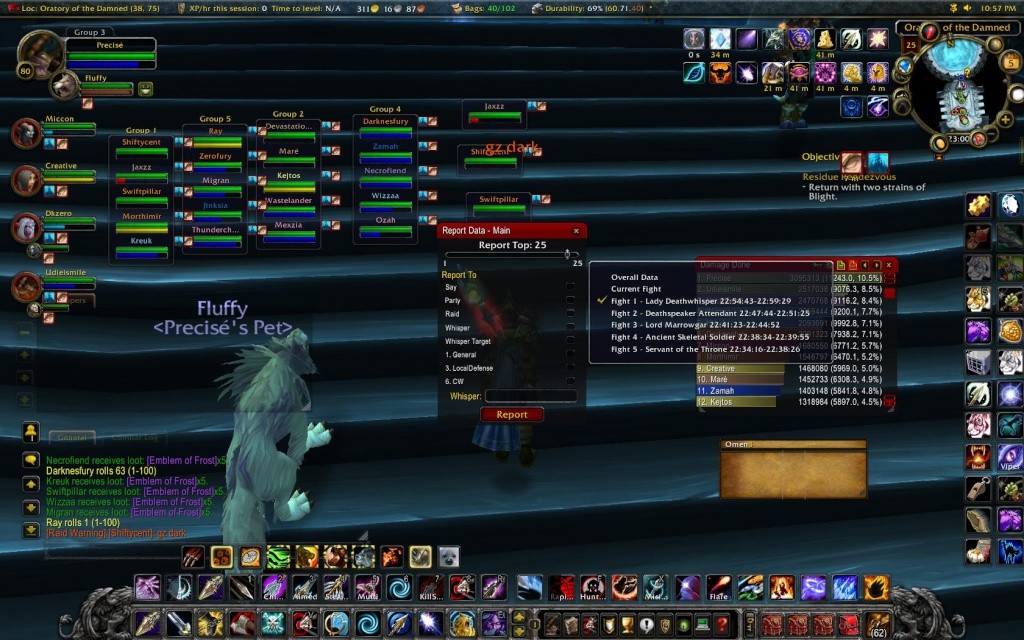 Do you see yourself as a fast learner on new encounters?
Yes, i am a fast learner on new encounters, i will listen to the officers. If i have any problems with the raid/boss i will tell one of the leaders my problem.
What are your strong sides in raids, and where do you feel you can improve?
Everywhere is my strong side

I could improve alot on knowing other classes tactics and not just knowing mine. This is a advantage in raids because i want too know what every classes job is, and so i knwo the boss to 100% and what classes have to do to kill the boss as soon as possible.
Thanks for your Time!
I have also forgot to say that i am currently not on the Realm Hellscream. If i do get accepted i am willing to pay to tranfser my character to Hellscream to participate in these Guilds raids and to play with my Friends.
Thanks
Hello there brett, i've checked your gear and experience and those requirments are what we are in need for.

So i'd like too offer you a 2 week trial, If you could whisper myself of any officer in-game for invite once you have transfered.


Thanks

~Zeus~



Posts

: 53


Join date

: 2010-05-28


Age

: 29


Location

: UK



Cheers mate i appreciate it.

Yeah ill give u a shout, i might not be able to tranfser for 1-2 days it depends.

Cu laters mate.





Thanks Again - Precise
Excuse me Zeus, you have your own username!!!!!!

Gz and welcome to the guild when you transfer.

Lil <3
_________________



Posts

: 53


Join date

: 2010-05-28


Age

: 29


Location

: UK



Thank You
I have payed for the transfer, so i will whisper you in about a hours time.

Thanks again
Whisper me in game for invite, lilhottybabe is currently away.



Posts

: 61


Join date

: 2010-05-25


Age

: 29


Location

: South Coast England




---
Permissions in this forum:
You
cannot
reply to topics in this forum